Adult Art Classes
Beginner & Intermediate • Small-group Art Classes for All Ages • Drawing, Watercolour, Acrylic, Oil and more.
We offer small-group drawing and painting classes for beginners as well as advanced students. The classes are conducted in the exciting settings of a real art gallery.
Want to learn how to sketch or paint? Have your own unrealized idea or unfinished canvas? Tried an art class before, but did not succeed? Whatever you personal goal is, at Anna Art Academy we KNOW you are capable of creating something amazing. And, to help you find your own unique artistic voice, we offer a large number of unique programs and workshops carefully designed to fit your needs.
Registration is now open, but spaces are limited:
Give your inner artists a perfect gift!
Master principles behind proportions theory, effective use of light and shadow, colour theory and perception, colour contrasts and more...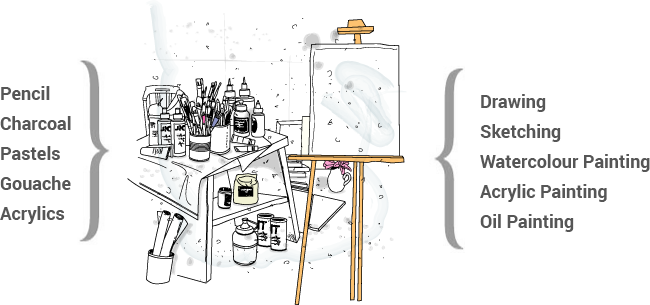 We work with every student INDIVIDUALLY to make sure you get the most out of the academic training while keeping the classes relaxed, enjoyable and fun — all in the unique environment of a REAL art gallery.
You are in good hands
All of our classes are taught by professional artists and educators who give their individual attention and guidance to EVERY single student in the class.
We accept students of ALL ages
It is never to late or to early to paint the amazing beauty of world around us.
Private tutoring is available
Private one-on-one (or 2 people) adult Coaching program are available to help you fast forward your progress, push you over the stumbling block in your technique or to take you to the next level faster. We can even help you master the technique of your favourite painter!
You get personal attention
You are NOT just another number to us. Our personal approach through one-on-one instructions gets results. We correct your technique, but we never correct your work. It is your imagination and your creation that we want to nurture and explore.
You don't have to shop for art supplies!
We help make your life easier by providing all the materials and supplies needed for a small fee. This includes oil paints, acrylic paints, watercolor paints, drawing paper, canvases (small size), brushes, pencils, erasers and more. You can also bring your own art supplies and materials.