My daughter Angela always has a wonderful time at Anna Art Academy. Every time she brings different art projects – she feels very happy of it, and it's a pleasure for us to display at home. So – thanks!
Maggie, Angela's Mom
Thornhill
You're in a good company when you join Anna Art Academy!
Small-group Classes
Held in a unique gallery atmosphere
Expert Art Tutors
Creating personalized lesson plans
Guaranteed Progress
Advanced Techniques, New Levels & Challenges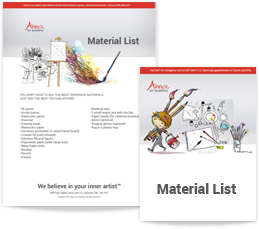 We help make your life easier by providing all the materials and supplies needed for a small fee. This includes oil paints, acrylic paints, watercolor paints, drawing paper, canvases (small size), brushes, pencils, erasers and more. You can also bring your own art supplies and materials.